The Politics of Empathy
These rats are named Matilda, Tara and Star. These are all transgenic (gene transfer) rats, HLAB27 transgenic rats to be precise, exhibiting a phenotype similar to humans suffering B27 related rheumatic disorders. They have been microinjected with human DNA that sets them up for a precondition to beautoimmune challenged. The injection of human genetic material occurs in the pronucleus of mouse embryo, and it is passed generation to generation ever after. They are prone to develop diseases like reactive arthritis, psoriasis inflammatory bowel disease, and other things. They are developed for pharmaceutical research studies in systemic inflammation. Matilda, Tara and Star are also retired breeders, meaning they were used to give birth to baby rats that carried their added gene. They came from a laboratory that breeds such rats (and mice too) and sells them to researchers. Their ears have holes and yellow markings on their fur as a kind of numbering system. These marks denoted their identification, their names, until they came to live with me.

I bought them to try and make them live as long as possible and to see if they could become healthy given their prior genetic conditioning. I will treat them holistically with alternative medicines such as homeopathy, environmental enrichment, also good food and play! Stress is one of the triggers for their conditions. I know because I, too, have autoimmune problems (in the form of Crohn's disease and Sarcoidosis). Thus, I identify with the rats and feel as though we are mirroring each other. I feel a great kinship with them. When I see them feeling tired I recognize that kind of exhaustion. I know they need rest in a way that is total. If they ache when being touched, I understand this is from fevers. I also know they do not know how to behave as pets. They are not pets. They are extensions, transformers, transitional combined beings that resonate with us in ways that other animals cannot.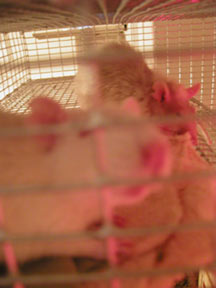 The combination of animal and human is traversed here with a kind of commitment and lack of choice. To empower just a few, to give them a retirement they earned, why not take back these parts of ourselves and repay the care.
They are on exhibit here to introduce them and this research to you, the public. This special laboratory has been developed to extend their observation of humans and to extend their lives. And also to invite you to assist in this work. I am getting information about them from an interspecies animal communicator, who has been checking in with them. She speaks with them telepathically and asks them questions for me. SHe said lately: " The rats don't have a lot to say but what they do say is very strong. They speak to me as a group. They say that they are very happy receiving all the love and care you give them. They like humans and are studying them as well."
Matilda, Tara and Star and I need your help and suggestions. How can we make their lives more enriched and make their health better? If you have an autoimmune problem, what do you do to treat yourself? What foods do you enjoy and what do you avoid?
I am not against the kinds of scientific research that works with animals. But I do think there are other kinds of research to be conducted. We have injected human materials into them. We have a real kinship with these rats, and still they are the forgotten workers.
The transformation that is taking place here is astounding and delicate. And we need to exercise a kind of empathy that results in understanding how we use them. The politics of caring of such a forgotten creature, a pest, a disposable one, has to have a transformative effect.
…………………………………………………………………………………………….

Embracing Animal Credits:

by KATHY HIGH

Mary Feaster Original Music
Jack Naughton Metal Design
Bill Jones Glass Blower
Olivia Robinson DVD Programmer
Rat Cage Housing MASS MoCA Fabrication A-Team
Nato Thompson Becoming Animal Curator
Adam Zaretsky Website Design

Thanks to Dena Gwen/Video Space and Abigail Ross/Judi Rotenberg Gallery, and also to Fred Cashmere, Walter High, Bridget Munger, the Naughton Fami Sarah Smiley, Shelly Silver, Dave Jones, Tara Mateik, Karen Thornton, Nathan Martin, Tim Austin, Adam Zaretsky, Rensselaer Polytechnic Institute/iEAR Studios.